Controls Danfoss PVG32 and PVG120 Hydraulic Proportional Valves
The MWC CONTROLLER allows precision operation of longline drums and winches.
Can be applied to any hydraulic application where Danfoss PVG32 and PVG120 are installed and fine adjustment of operation are desired.
The CONTROLLER can be used as an alternative to the DANFOSS PVREL joystick
Designed for the fishing industry, the IP65 rated enclosure and high quality components ensure durability and weather resistance
Controls include a rotary dial for speed, 3 position switch for forward, centre off, and reverse
Speed min and max limits can be set via internal adjustment
Easy INSTALLATION with optional "installation kit" for connection to PVG hydraulic valve and DC power.
Can be handheld for remote operation with variable cable length or panel mounted
The MWC Hydraulic Controller has proven functional in industry for over 20 years

Installation Kit Details
MWC Hydraulic Controller with supplied installation kit
Includes:
8 meters 4 core flex cable (or optional length)
Junction box for easy installation with:
Black DIN connector suited to PVG valve connection
DC power cable for 12-24v input RE PVG power specification.
Pictured is Handheld MWC Hydraulic Controller,
Panel Mount style also available with gland exiting cable under unit.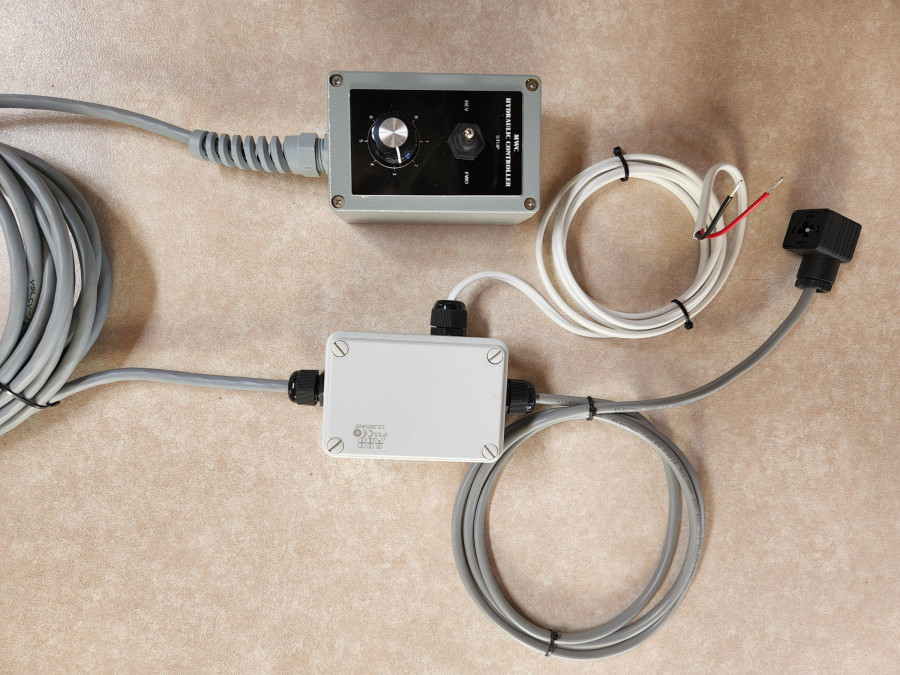 MWC Hydraulic Controller Specifications
Enclosure dimensions: 125mm x 80mm x 80mm
Enclosure material: Alloy
Enclosure rating: IP65
Input Voltage: 12 - 28 volts DC
Watch a video example of the MWC Hydraulic Controller
I have been using the MWC Hydraulic Controllers, for over 15 years
to control the Danfoss PVG 32 Hydraulic valve that drives the longline drum on my fishing boat "Tahnee B"
In our fishing operations, it is required that we start, stop and accurately set and adjust speed of our winch for "shooting away"and "winching in"
The MWC controller has proven to be effective, longlasting and reliable.
It allows myself and the crew optimum control of speed and direction of our drum to maximise our fishing catch.
Micheal Ballantyne, FV "Tahnee B" Eden, NSW